After a prolonged period of no travel, the partnership of the Care4Carers project was lucky to meet in person for the Kick-off meeting in Vienna. All but one partners managed to send a team member to attend the meeting, which nevertheless retained a hybrid character.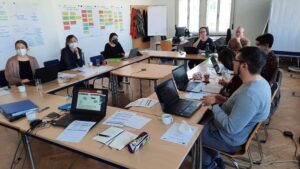 Partners exchanged on what they can bring to the project:
a strong experience in counselling, a network from other Italian regions (ENAIP Veneto)
innovation aspects (CSI)
experience in care education, international experience from many projects, big international network (SOSU)
cooperation with care centers and social net service, inclusion of vulnerable people, good network and intuition for results (KMOP)
international experience in EU projects, personal commitment (CATRO)
experience with competence validation, personal experience as social worker and family carer (BUPNET)
qualification context, contacts from social projects, e-learning expertise, project coordination experience (die Berater)
In order to focus on our next steps in the project, the team implemented an "empathy session" in which two working groups created two "personas" as representatives of the two target groups.
PERSONA 1: Family carer who thinks about her professional future
PERSONA 2: Career consultant/coach, who is supposed to work with family carers
As usual, a detailed work plan was created, with concrete deadline and responsibilities.
Partners took home the following:
Motivation for the project (enthusiasm, curiosity, excitement, commitment)
Good impression of the partnership (positive atmosphere; a good partnership; trust for the partnership, a real "kick-off"; a very organized kick-off meeting; shared responsibility)
Clarity and confidence (clear image of what the partnership is going to do and what will be the obstacles; a good feeling to be on the right path; confidence that this project can be successful; a clear timeframe; getting to know the faces behind the organizations
Challenges (reaching the target group will be new ground for some partners)