After the preliminary phase the trainers eventually met in Matosinhos for the 5-day face-to-face training.
Trainers from UK, Portugal, Austria, Slovakia, Germany, and the Netherlands attended the course to find out more about the SASSI project and the SASSI approach to validate competences in terms of designing, delivering and evaluating age-responsive training.
It was an intense week, rich of exchanges, fruitful discussions and a lot of inspiration.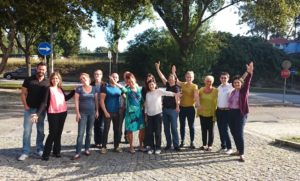 Now it's time to move on from theory to reality – already during the course, the participants drafted a learning project that they will refine and implement back home in their professional practice. They will be supported by the SASSI team and will exchange their experience in the SASSI Hub.