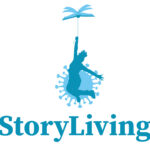 We are pleased to announce a new project on storytelling. We can draw on some experience from previous projects. The particular challenge here is that it is digital storytelling to give young people with with ASD and other mental disorders the opportunity to share their Covid experiences. The idea is to use digital storytelling as a method for overcoming and process emotions, fears, traumas and isolation and for sustaining the healing process of youth and their families.
The first partner meeting took place at the end of June – unfortunately still virtually, because the situation in Europe does not yet allow safe travel.
Nevertheless, we have been able to plan the first steps in a very good way. First, a research phase will aim to identify best practices in the use of digital storytelling and other practices of inclusion that were used during the COVID 19 pandemic. This will be done through desk research on the one hand and interviews with experts and professionals working with young people on the other hand. The results of the research will be the basis for developing guidelines and practical strategies for agencies and organisations working with young people with ASD and other mental health disorders to support them in using digital storytelling as a communication and healing tool.