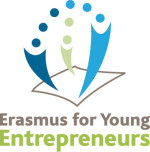 Erasmus for Young Entrepreneurs looking for interested start-ups in the region and for people who plan their own business and want to exchange with experienced companies in their field of interest!
New poster campaign launched in Göttingen for attracting students for the Erasmus for Young Entrepreneurs programme.
Some weeks ago we started with the new poster campaign on several bulletin boards at the University of Göttingen. We received already some phone calls by students interested in taking part in the programme.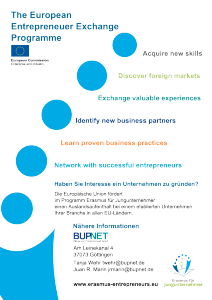 So if you are a start-up located in Germany or if you are planning to start your own company here and like to do a funded exchange with an experienced company in your field in another European country, get into contact with us. We are glad to support you with the registration and explain all details concerning the regulations.
For more details please check also the webpage of the programme.
http://www.erasmus-entrepreneurs.eu/