Final conference in Lissabon with several VIPs from relevant institutions dealing with violence against women, such as CEDAW, Council of Europe, and the Minister of Justice – an ideal frame to present the project products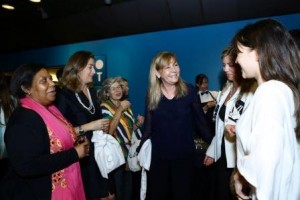 On July 2nd, the final conference of the E-MARIA project was attended by a number of representatives from organisations that have a long history in fighting against domestic violence and violence against women. 
Among them were Mendes Bota from the Council of Europe and Regina Tavares da Silva  from CEDAW – both reported on their experiences and engaged in a panel discussion – and the Minister of Justice, Paula Teixeira da Cruz, who presented an interesting speech on the issue.
Three representatives of the Lithuanian and Portuguese police highlighted their daily practice and their frame of work in the field. All three had participated in the national pilots and underlined the importance of such training offers.
The conference offered an ideal frame to launch the materials that the E-MARIA project team has produced, namely:
European Manual on Risk Assessment
Training package for professional
Training package for survivors
All three products are currently available in English and Portuguese. The translations in Lithuanian and German are being done. We expect to have all translations ready by the end of August. We will actually print only a condensed version of all three products, i.e. we have "The read thread through the European Manual", which is a condensed version of the manual on risk assessment + a CD with the full version. And we have a booklet summarising the two training packages. These will also be available in full version on a CD.
If you are interested in receiving your copy – please contact us.